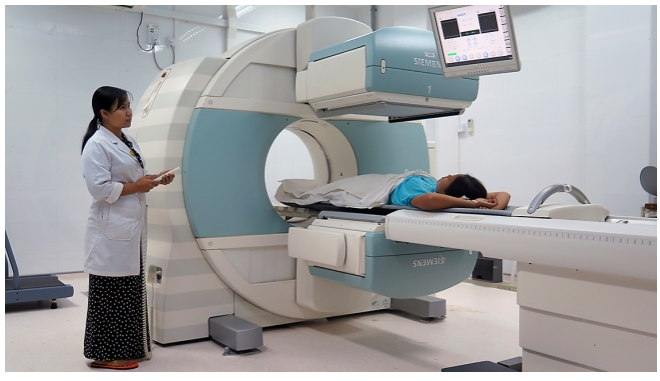 Yangon, Myanmar – Mya Mya Kyi is in a hurry, trying to cut through a throng of patients waiting for their turn on the hallways of the Radiotherapy Department at Yangon General Hospital. As the department's Chief Medical Physicist, she is in charge of therapy planning for the close to 300 patients per day who receive cancer treatment on the hospital's four radiotherapy machines.
While the country's Ministry of Health has bought radiotherapy equipment for the Yangon hospital and three similar facilities around the country, training for medical physicists, including in quality assurance of the radiotherapy equipment, is not available locally. Mya Kyi and her colleagues rely on the IAEA for these services.
"Treatment plans, dosimetry calculations, daily audit of the machines and quality control – the day is never long enough for all of this," she says while making her way from a room with a Cobalt-60 machine to her work station where she prepares treatment plans.
Medical physicists work with sophisticated technology used in radiation medicine to diagnose and treat patients with diseases like cancer. They need to have knowledge of both the human body and physics principles, and how to apply these principles to support diagnosing or treating patients. Read this article for more on medical physics.